Once upon a time, in Pixie Mill…

Justine and Alexandre, a lovely couple wanted to flee the  big noisy city to live the life they wanted for their beautiful daughters. Ah ! The countryside life looked like the perfect place. Along their quest, they finally landed in a paradise, not far from Gaillac in Tarn. It was love at the first sight. A bucolic lake, a vast park, a charming undergrowth and  a chalet village. In a nutshell, a fairy place to welcome friends and travelers.  Possibilities are endless like cultivate their own vegetables or welcome animals. How not to succumb ?!? Their values, their love for people and sharing made it so logical. It was right in front of their eyes. The Fées du Moulin journey had begun.

From now on, all the fairies work for your happiness and are more than ready to welcome you !

The Fairy Family : Justine, Alexandre, Agathe & Charlotte
Fairy to please you !
As soon as you booked your holiday rental and all along your stay among us, our Fairies will spread their magic powder to make your wishes come true : information, breakfasts, groceries, activities organisation, housekeeping, equipment lending, and so much more. 
Let the fairies fill your needs !
> At the reception, to organise your holiday in Tarn, more info en savoir +
> For your holiday rental, more info en savoir +
> For their various services more info en savoir +
> For your activities more info en savoir +
At Pixie Mill Reception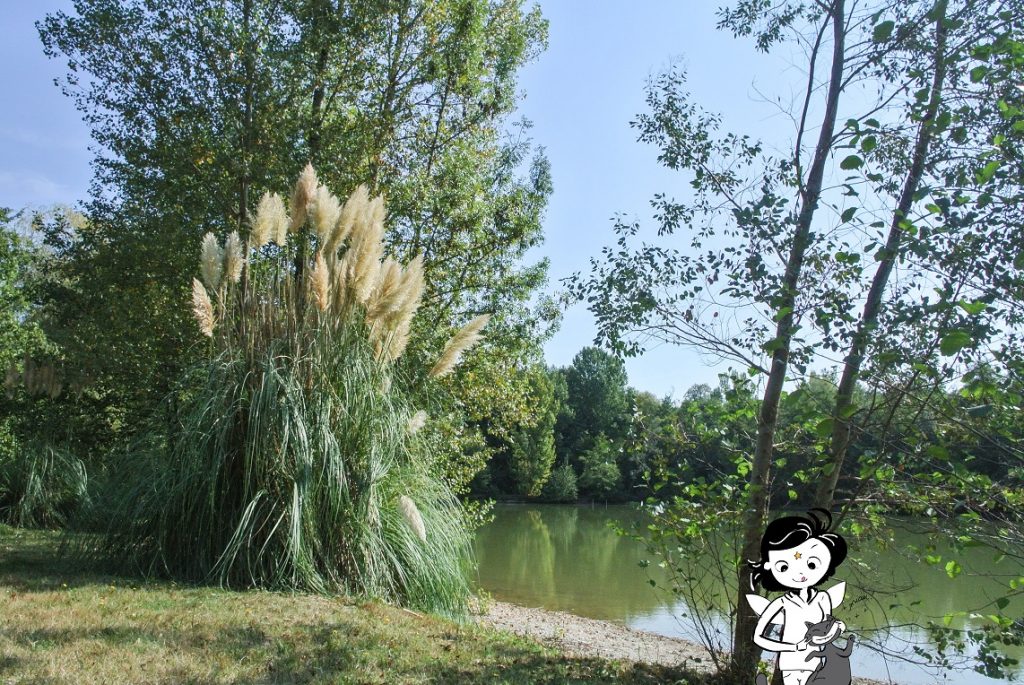 Smily Fairy  welcomes you every day from 9h to 22h in her reception chalet, a nice and friendly place :
meet up space
reading den
small pub
tourist information for your holiday with nature in Tarn
board games, accessories and equipments  lending, if available
local products and basic products are proposed by Shoppy Fairy
You can find our prices here

  Between 9h and 10h, join us for a coffee happy hour !
Chalets in Pixie Mill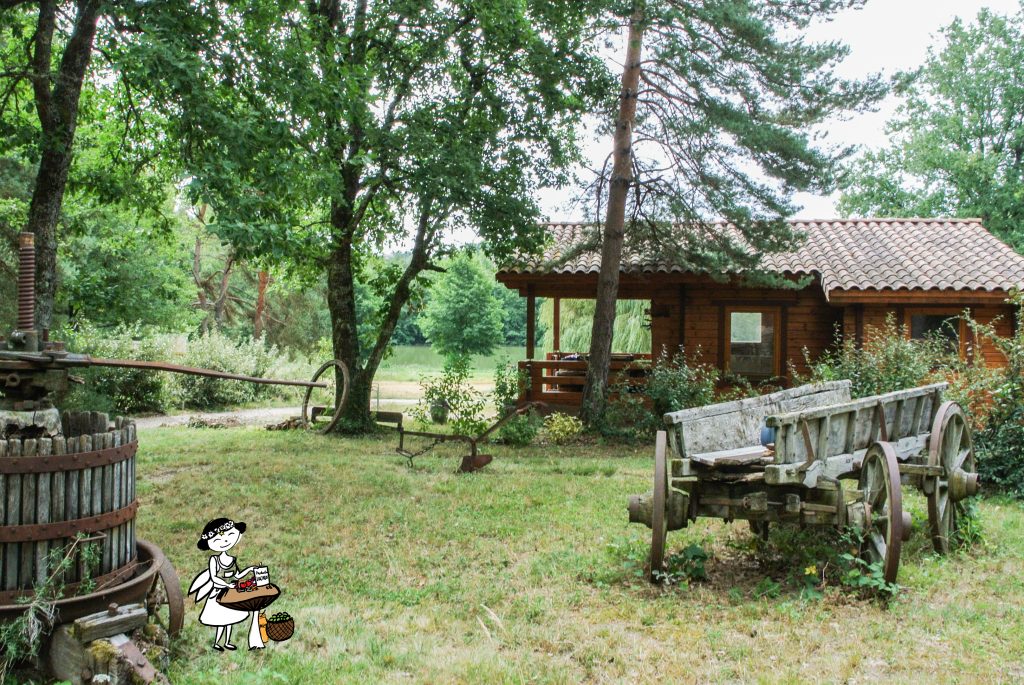 Sleepy Fairy welcomes you in one of her 12 wooden chalets nestled in the middle of a shady little wood and around a big common terrasse :
all year long ;
on lots of 200 m2
in  spaces with all the mod cons, all set up with care and with environmental protection in mind ;
for 4 to 8 people
for one night, a week-end, a week or more ;
all doted with a terrasse with lake view ou along the forest.
Discover all our chalets here.
Fairies to help you during your holidays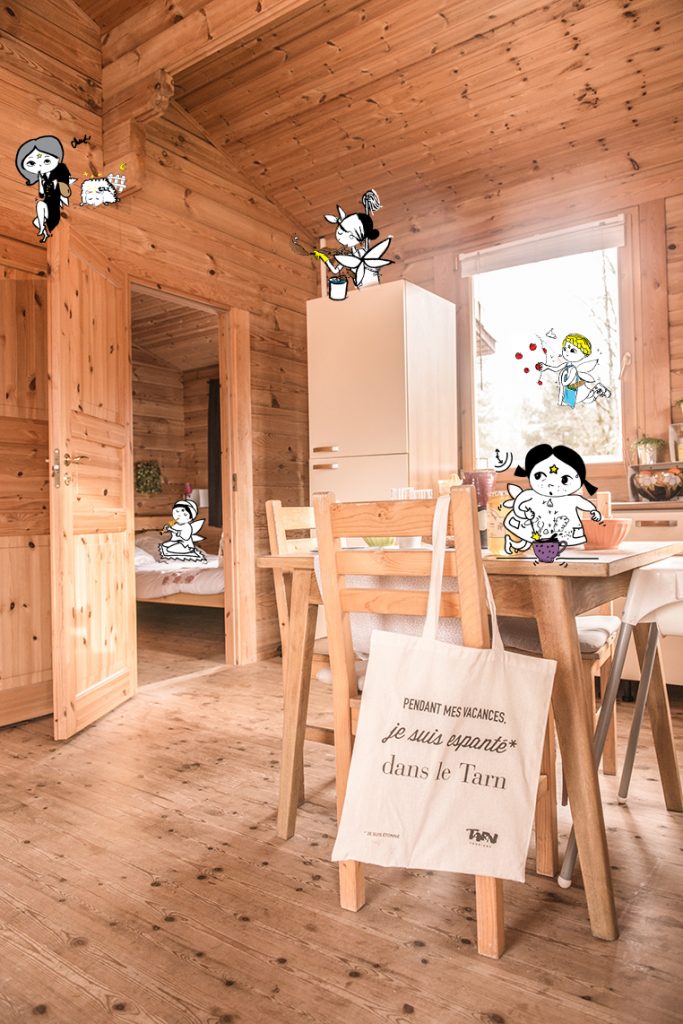 Our Fairies are available to make your life easier along your holidays.
Coffee Fairy

delivers bread, and

breakfast right on you terrasse.
Beddy Fairy takes care of household linen.
Cleany Fairy can clean up during your holidays or before you leave.
Following your booking, Grocery Fairy sends you a list with items to chose, and then she fills up your closet before your arrival. Once settled, you just have to enjoy ! 

Discover all our services here
Constructions and activities in Pixie Mill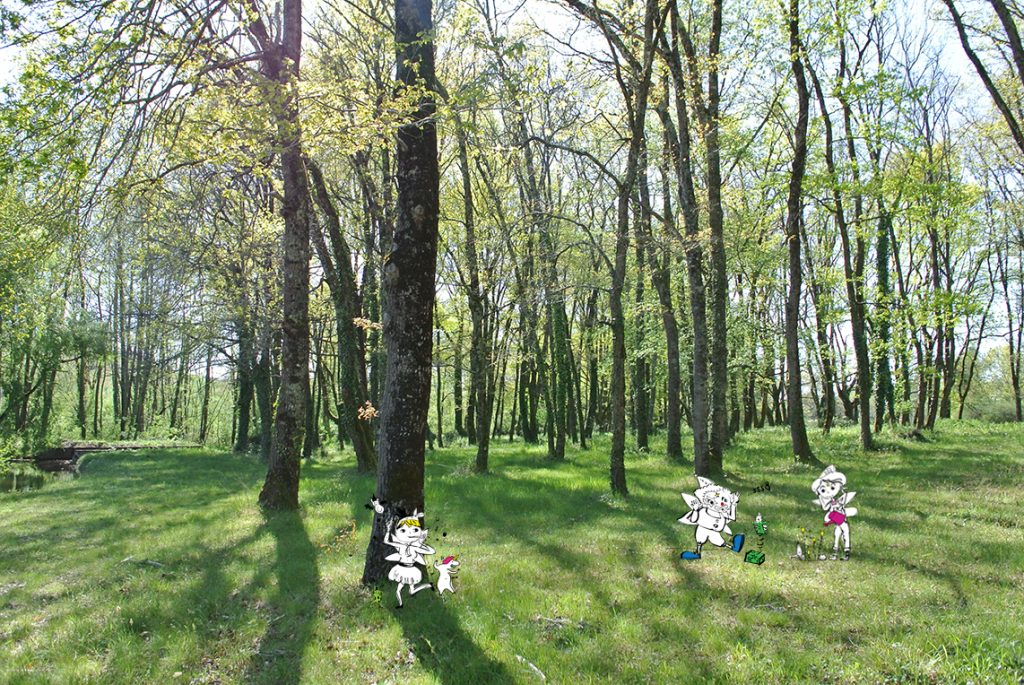 Our Fairies are also here to entertain you and have fun around our constructions and activities :
Kiddy Fairy welcomes kids in our playground. They'll be able to visit  Maronnette and Maurice also called M&M's, our goat and our billy goat.


Gardeny Fairy proposes you some seasonal and natural treats you can pick by yourself (if you want). She also arranged refreshing and relaxing spaces as well as the lake shore to relax under the sun while kids explore the undergrowth around.

Meet Up Fairy shows you all the various places (common terrasse, barbecue area, outdoor living spaces) in a smooth and friendly mood.
Musical Fairy organises small guitar-cocktails when savoring treats from Shoppy Fairy.
And very soon, Wavy Fairy will welcome you by her swimming-pool !
For more information, it's here.
The Fairy Team are her to welcome you, entertain you and take care of you, so you can fully enjoy your holidays in respect of people around and mother nature. Take the challenge by finding them out around Pixie Mill !
The site will evolve with time. Feel free to ask what is the next plan for our development as well as suggest your best ideas.