… and you'll be blown away!
Yes you are a stone's throw from Toulouse and two stone's throw from Carcassonne, but since you're here, in Tarn, just make the most of it ! In Tarn, we say "fousiquer", even French from other regions don't understand this word. It can be translated into to rummage or to trudge. Because, let's be real, there are so many things to do, to discover here !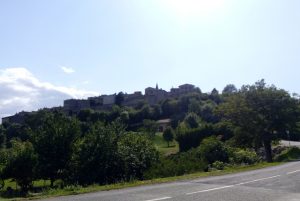 The thing is around here in Pixie Mill, you have so many possibilities to spend your days : peaceful or sporty, dynamic or meditative, gourmet or œnological, it's up to you. The choice is yours and the best, it can be a different one each day !
That makes it perfect for family vacation or a romantic escapade or even for an original business event. Visiting Tarn is many experiences for an authentic holiday in the countryside.
Take your time to visit the spectacular views of Pays de Cocagne, to be amazed by a nature untouched and protected, to savour our local gastronomy… " Tarn is good for you".
You'll have the choice between its listed sites of Unesco World Heritage and Occitanie Wild Sites. Colours are so central of our area through pastel blue of the Cocagne flower to the red of saffron from Tarn and pink of the Lautrec's garlic. You'll wander between our local food products and the oldest vineyard of France.
Our selection of sightseeing tours
In order to plan the best holidays in Tarn, whether you prefer walking from Pixie Mill or take the time to go a bit further, this is our potpourri of the trips you could consider. And for each category, there's a surprise for you close to Pixie Mill. Click on the link for more information : avec dans chaque rubrique un petit + à proximité du terrain – cliquez sur chaque lien pour en savoir plus :
When arriving, you'll find Vitipassport at the Tourist Office Vignoble and Bastide which gives you a large choice of discounts.
---
For more information about local festivals and festivities in Tarn, visit our page Pixies News
---
And for your next visit, there is more to see :
Toulouse downtown less than an hour by car and you'll have all the appeal of the pink city.
The Greater Montauban, directly accessible
A walk between the rocks of Sidobre and the visit of the largest granite quarry of France.
Museums, La halle de bois, Sorrèze... nearby Revel you can take a walk by the lake saint Ferréol
45 minutes away, Cap Découverte suggests various outdoor activities for little ones and big ones with among other things a giant zipline and water skiing, etc.
Water park and giants slopes at the Base de loisir de Montclar de Quercy
Carcassonne and its city-state is only 1H30 away
And just in case, our colleagues in Tarn, but really don't feel any obligation to them 😉